How To Survive Black Friday
November 25th, 2013
Black Friday. A day that for most people comes with the anticipation of watching the nightly news to see what crazy antics were perpetuated across the country, on this the most anticipated of shopping days. For others, it is a tried and true means of completing the Christmas shopping which leave the rest of December for enjoying company Christmas parties and the occasional eggnog.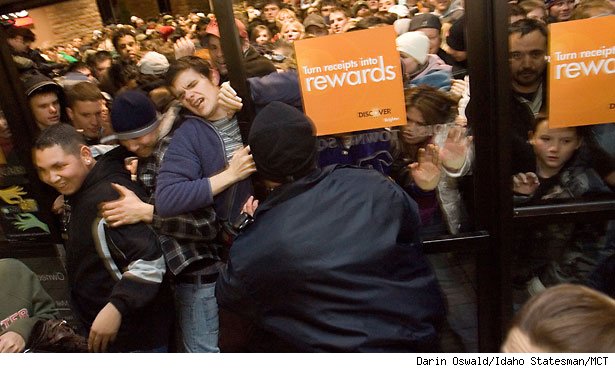 This may not be your first go around at a Black Friday sale, in that case you are a shopping veteran and legend among those of the uninitiated. But as with every year, the stories of savings and the allure of getting a great deal is the siren song that lures a whole new breed of shoppers. As a public service we here at Your Promo People have taken it upon ourselves to create a shoppers guide to surviving Black Friday.
It's a Team Sport- Divide and conquer! You might be able to take a lesson out of the Art of War for a successful shopping experience. Have a shopping team. Make your lists and find out what items overlap then assign items to every team member….note that walkie talkies will be a bonus for effective communication.
Riot Gear May be Necessary- If you are one of those shoppers that is going to brave the cold and the crowds getting right in the mix of things when the doors open, we would suggest wearing some protection. Rushing the doors to a store is not for the faint of heart and as we have all seen on TV sometimes that over eagerness can result in injury. If your budget can swing a set of riot gear from your local army surplus, it's a wise investment.
The Biggest Loser- It may be a bit late for this one, but there is always next year. Believe it or not Black Friday for some is almost like running a marathon. The whole day you will be active walking to a store, from a car, running to grab the last of this year's hottest toy, it can be a gauntlet for your body. Wearing appropriate shoes will help, but remember to take a break every now and then. Or better yet rent a mobility scooter, it has a basket and a horn!
Keep your Friends Close but your Enemies Closer- We all know and hope in the good will toward man ideal, especially when it's the holiday season. But, don't be fooled or taken in by your fellow shoppers, when there is limited supply of an item that has been deeply discounted, crowds have a way of making people a bit less rational. Our suggestion is hiring a personal security guard to watch your cart, you can never be too careful.
If you do decide to brave the weather and the crowds remember that a smile and a great attitude goes a long way. We hope you have a great holiday season and have a happy Thanksgiving.
By Travis Shafer