Why Building a Fantasy Football Team is Like Building a Business!
July 28th, 2014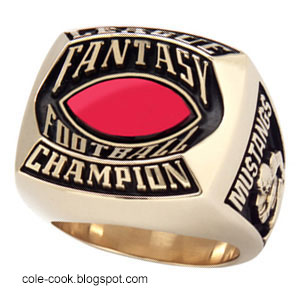 Fantasy sports, particularly fantasy football, continues to grow in popularity. For all those that criticize people for playing, more and more men--and women--play every year.
Even though millions of people play fantasy football at work, much to their employers' dismay, few have compared to building their team to building a successful business. Yet, there are numerous similarities to creating winning fantasy teams and profitable businesses.
Consider only the most critical features of both objectives. You'll see why these similarities are valid.
Understand your market. To be successful in fantasy football you must learn the tendencies, behaviors and strategies of your fellow owners in your league. This is exactly what you must do when building a business. You need to understand your market, your customers, and their buying behaviors.


Develop a strategy that works for you. After you learn how your competition behaves, you can develop strategies that win you games. Your fledgling business also demands that you create a strategy that generates sales.


Practice, practice, practice. Just as you practice your fantasy football drafts, you should practice your routine marketing strategies for your new business.


Start running. Building your fantasy football team mirrors your requirement that you hit the ground running. Start--and keep--running. Don't stop.


Keep value at the top of your list. You need athletes that perform week after week if you hope to succeed at fantasy football. You need the same performance from your new business if you want it to be profitable. Your fantasy football team demands that you draft those players that will perform week after week and don't get injured. Your business needs similar performers that produce for your company day after day.


Use promotional players/products to establish your brand. OK, this seems like a "reach" compared to a fantasy team, but not really. Depending on proven performers is a winner in fantasy football and in business. Promos add strength to your business brand and help your fantasy team achieve, too.


Put a premium on reliability. Even super stars, like TE Rob Gronkowski, can't help your fantasy football team if they cannot play and are restricted to rehab activities. Building a business with outstanding employees who are constantly sick or injured produces similar results. Employees--even average ones--are more valuable if they are reliable, showing up for work every day, avoiding constant illness and reliably performing their jobs.


Draft a good quarterback. This is a no-brainer for fantasy and real football. It's another given when you're building a business. Just as every football team needs an exciting, competent leader, a business needs a similar professional to run "point" for the business. Not giving the reins to winning leaders may be the most common mistake entrepreneurial business builders make.


Building a successful business, like building a winning fantasy football team, requires thought, planning and attention. Preparing to commit the time, thought and hard work necessary to build a winning fantasy team is just like building a successful business.
Building fantasy football teams requires planning and strategy just as creating a new business needs similar action to succeed. Plan properly, execute your plan and make plan changes when appropriate is a winning formula for fantasy football and business success.
By Travis Shafer