The Art of Tailgaiting
February 28th, 2013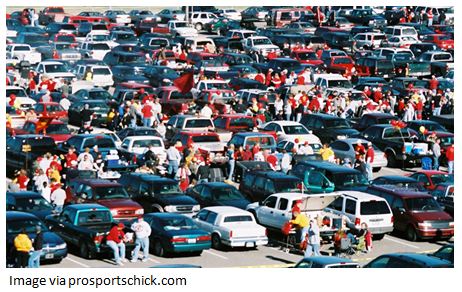 You can create the greatest product or service in the world, and it doesn't mean that people will start beating down your door. Why? Because if no one knows that your product exists, there's no reason for them to do so. People can't purchase something if they don't even know it's available to them. That's why tailgating and sports promos are so very useful.
Tailgating is an American tradition. Is there a better way to wait for a sporting event to start than to eat food, talk to friends and prepare for the game ahead? Tailgaters will tell you no way, and that's exactly why need to make the most out of tailgate and sports promos. From noisemakers to cow bells, sports promos are an easy way to convey your message and advance your marketing efforts.
What sort of items might tailgaters and sports-lovers need? Whatever it is, why not turn it into a promotional tool instead of just a simple object? Engrave your logo into silicone bracelets and buttons that get worn again and again. Your promotional message might be seen by hundreds, or even thousands of sports fans.
Fans need to show their support for their team. Is there a better way to do that than with megaphones? While they're shouting their allegiance to the world, they could be showing off your logo, too. Rally towels, buttons and other gear that show team support and show off your promotional information at the same time do your marketing work for you.
Buttons, silicone bracelets, noisemakers? Fans need all of it when they're tailgating and attending sporting events, so give it to them. Print your bsaic company information and logos on all those must-have fan items, and put tailgate and sports promos to work for you. Let people know about your company with customized items that sports lovers will want.
You'll be showing your support for the fans by giving them just what they want, and they'll be carrying your message with them every time they use their noisemakers and megaphones. They'll remember that logo, that company name or product, and they won't even know why. Your company will remind fans of good feelings that come from tailgating and watching sports, and that does good for your company.
Use tailgate and sports promos to let people know about the great stuff they're missing, and they'll start beating down the door to your company.
For more sports related gear
click here
.
By Tim Jones