Support Your Team ... And Get Some Advertising Attention too!
June 13th, 2013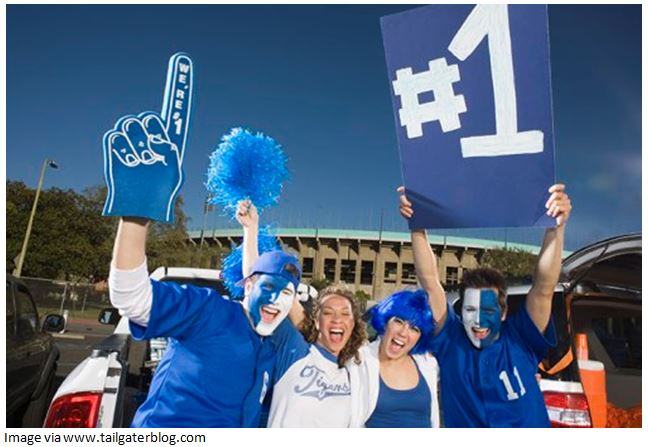 The best marketing items get your business or group information in front of many people in an inexpensive way that's frequently seen for a long time. Marketing tools should generate customers by creating a brand image for your business of group. A proven marketing tool, stadium cups, put your business' information in the palm of your future customers' hands.
Custom-printed stadium cups are printed according to your needs. These promotional cups come in various sizes, colors, types, and shapes, so you can get as creative you want with your advertising. Twelve ounce or sixteen ounce stadium cups are perfect donations to school booster clubs and will get your name in front of hundreds of area families while they're at a game or school event. The promotion doesn't stop there either; families often take cups home and since these printed stadium cups are made from high-quality plastic. Stadium cups get used for months or years afterward.
Special events like concerts, charity fundraisers, and festivals are great avenues for advertising on custom stadium cups. Vendors will gladly accept donated 32-oz stadium cups to serve drinks. Vendors save the cost of the cups and you get your brand in front of hundreds of people and in hundreds of homes.
Promotion cups aren't just for drinks; tumblers hold popcorn, candy, or prizes. Get your business information in the hands of future customers when you donate souvenir cups for prizes at a school carnival. Consider giving a large bunch of promotion cups to a local church for snacks during vacation bible school or your to children's little league team for an after-game treat.
Cups printed with your company's name, phone, and physical and web addresses, keeps your information handy. Personalized stadium cups with your business' logo add an extra bit of flair while bringing in more sales. When future customers see your business logo regularly, they are more likely to recall it when they need your product or service.
When you combine stadium cups with other proven marketing tools like pens, seat cushions, magnets, t-shirts, and stickers, you're well on your way to creating a solid brand in the mind of your future customers. Using these more traditional marketing tools with distinctive tools like bracelets, can coolies, lanyards, and water bottles helps bring your business to the front of potential customers' minds when they're ready to do business. Start building your brand today with custom stadium cups.
By Tim Jones