Plastic Drinkware: Always a Fan Favorite
May 10th, 2013
It's obvious that giving away promotional products is an excellent marketing technique, but choosing the perfect item for your company is often difficult. If you're not sure what type of item to order for your event, you might consider designing custom stadium cups.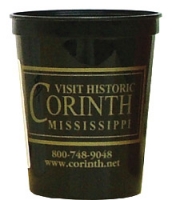 Why are personalized stadium cups such a great idea? For one, they're among the most useful promotional pieces that you can buy. If you're giving away a key chain, for example, many people won't ever bother using it if they already have one and they will simply throw it away. However, a promotional cup is a useful item that individuals won't simply get rid of and they can use it no matter how many souvenir cups they already own. Because the stadium cups are useful, they will serve as an advertisement every time a person opens the cupboard.
Another excellent benefit of using promotion cups is that there are many varieties of customization possibilities, giving you the perfect opportunity to find the proper cup for your audience. For example, choose between different sizes, such as 12 oz, 16 oz, and 32 oz plastic cups, among other options. Additionally, you can also decide between various color schemes and logo options, giving the chance to design your promo cup exactly the way you want.
What's more, even thought they last a long time, these plastic drinking cups start at just pennies a piece, which makes them a cost-effective option. This means that for under a dollar per person, you can buy years worth of advertising and place it in consumers' homes with one easy order.
You'll also find that these cups are among one of the best items to help you target a wide audience. From children to professionals, a plastic stadium cup easily appeals to almost everyone, whether they keep their cup in their home or their office. This option is simply an exceptional advertisement technique to get people from any demographic to use your promo piece and familiarize them with your name.
You can use promo items like this for various events. For example, you might give them away for free at a trade show, which helps attract potential customers to your booth, or you could give them away as gifts or use them as incentives for your employees. No matter the reason that you buy customized promo items, a personalized stadium cup is a spectacular idea for a cost-effective way to advertise.
By Tim Jones