Get Ready For National BBQ Month
May 19th, 2014
Outdoor cooking is becoming more popular and more enjoyable than ever, as people aren't just seeing the ease and cost-saving benefits associated with grilling and barbecuing, but the social experience as well. That's because about 65% of Americans state that barbecuing is an ideal way to spend quality time with family and friends. In lieu of this rise in outdoor cooking popularity, the Hearth, Patio & Barbecue Association (HPBA) has designated May as "National Barbecue Month."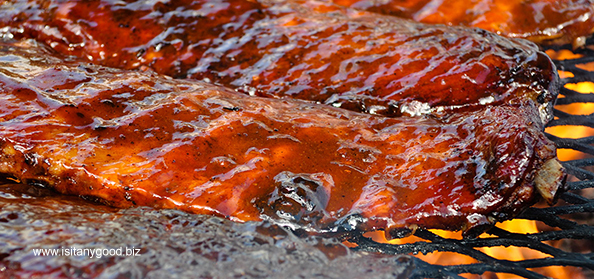 Are you a grill master? Here's a look at the various types of BBQ styles and tools to incorporate into your next big cookout.
BBQ Styles
You might be content just grilling up hot dogs and burgers at your outdoor gatherings. But if you want to do more, there are four main types of barbecue in the United States to master - all of which are defined by the region they're cooked in. Here's a look:
Kansas City Style: It's characterized by the slow cooking on low heat of the likes of pork, pork ribs, and chicken. Kansas City style is also defined by the sauce used on the food items - specifically, a thick, tomato-based additive with lots of sugar. Most Kansas City-style barbecue sauces can be found on the store shelves at your local supermarket.
Memphis Style: Think Kansas City style, except with less sugar in the sauce and more spice.
Texas Style: It's all about the beef when it comes to Texas-style barbecue, with sauces described as "thin" and "bold."
Carolina Style: It's all about pork with Carolina style. Carolina style barbecue is also sauce-based, specifically consisting of those that are thin and watery.
So now that you know a bit about the four main types of barbecue in the United States, here's a look at some tools to have for your next big cook. The barbecue grill is paramount, of course, but here are some other accessories:
A BBQ Set: Impress your guests with a BBQ set. Sets come in anything from 3 to 10 pieces and contain things like tongs, spatulas, sauce-applying brushes and forks.
Skewers: Skewers are great tools for adding another food item to your barbecuing repertoire - kabob.
Grilling Baskets: You can place just about anything in a grilling basket to put on the grill, from sliders to vegetables.
Sauce Pots: For preparing and storing the various styles of sauces that define each type of barbecue listed above.
A Cleaning Brush: A cleaning brush or cleaning wipes are essential to keeping your grill in tip-top shape so that it cooks effectively the next time you start it up.
Meat Probe: Meat probes provide an easy way to ensure that your food is prepared according to the preset temperature, which is especially ideal for Texas and Memphis style cooking.
So this summer, don't just put hot dogs, burger patties or chicken on the grill, try to really impress your guests at the next big outdoor gathering. By learning about the various barbecuing styles and equipping yourself with new tools, it's easy to get on the path to becoming a barbecue master.
By Travis Shafer