Meet the Big Brother ... The Pitcher Koozie
October 24th, 2013
As you probably already know, we love our koozies! Can koozies, bottle koozies, a koozies for your solo cup, we've even created the big brother of all koozies: the Pitcher Koozie.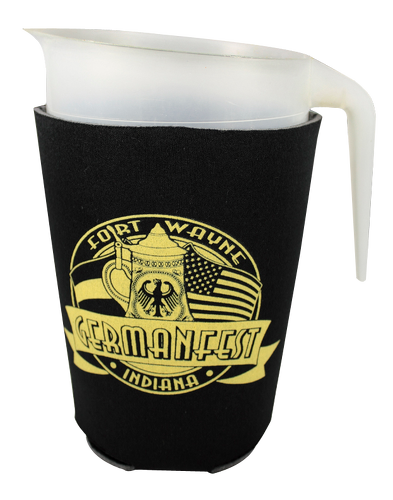 So how did this new idea come about?
In Fort Wayne, the summer months are full of festivals. One of the local organizations, Germanfest - a personal favorite festival is an annual event that celebrates all things German, including beer! At the festival, you can by beer by the cups or by the pitcher. During the warm summer months, the pitchers of beer would get warm before most people can even finish the pitcher. A solo cup koozie already existed, but the beer was getting warm in the pitcher, not in the solo cup. That's when it hit us - we need a coolie for the pitcher! As for who had the first idea, that is an argument that will never be settled.
And there you have it, sitting at our local Germanfest, the Big Brother of all koozies was born ... the Pitcher Koozie. Since then we supply Germanfest with Pitcher Koozies every year.
By Allison Hook