Top 10 College Football Mascots
September 10th, 2013
Well folks, we are officially in football season - with the start of college football kicking off a few weeks ago and the NFL revving up last week. Football is definitely on our minds and the main topic of conversation here at YPP. Our alliances are varied, from the University of Michigan to the Pittsburgh Steelers, we follow them all. What is a "Steeler" any way? And what exactly does the Michigan Wolverine look like? This definitely got us thinking ... "What are the 10 top college football mascots, of all time?" So, grab your seat cushions and foam fingers. We've done our research and here they are ...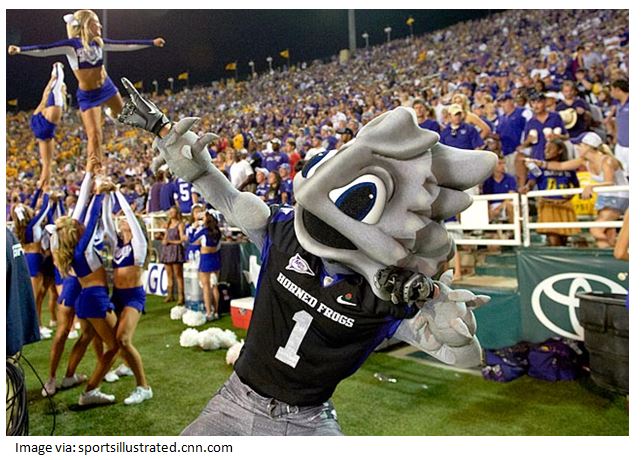 10. Super Frog - Texas Christian University Horned Frogs
What countdown wouldn't be complete without the TCU Horned Frogs, an interesting looking mascot that looks like he belongs on a Pokémon card more so than a football field.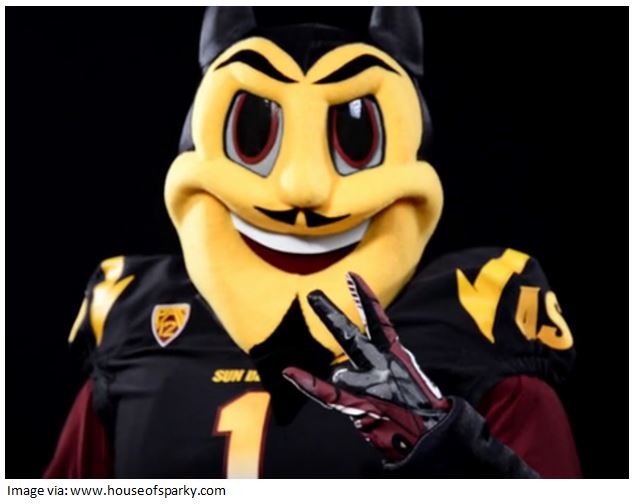 9. Sparky the Sun Devil - Arizona State University Sun Devils
It is believed that Sparky the Sun Devil was modeled after Walt Disney by a former Disney employee, but I guess we'll never really know for sure.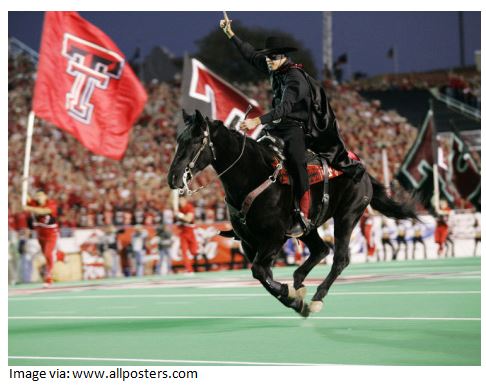 8. The Masked Rider - Texas Tech Red Raiders
The masked rider has been riding on the field in Lubbock since first appearing in 1936, although he wasn't officially the mascot until 1954. So it appears there is an air of mystery surrounding the masked rider.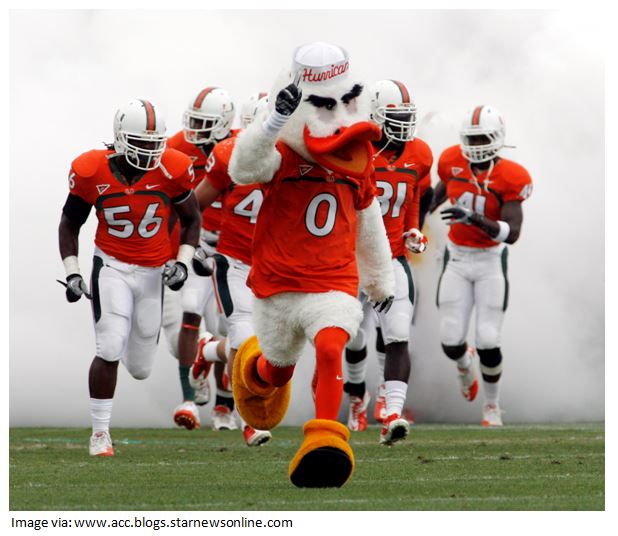 7. Sebastian the Ibis - University of Miami Hurricanes
Some may mistake Miami's mascot for a duck, but that's incorrect. Sebastian is an ibis. What's an ibis? An ibis is a long-legged and long-beaked bird native to the Miami area.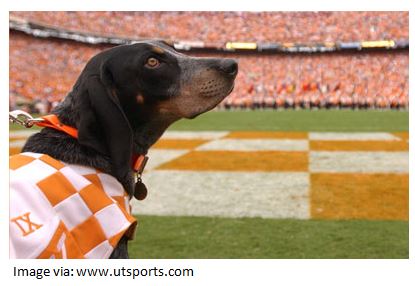 6. Smokey - University of Tennessee Volunteers
There's plenty of bulldogs in college football, but there's only one Bluetick Coonhound. Any that's none other than Tennessee's Smokey. The original Smokey was chosen because the fans loved how loud he could bark and howl. Ole' Smokey's been a crowd-pleaser ever since.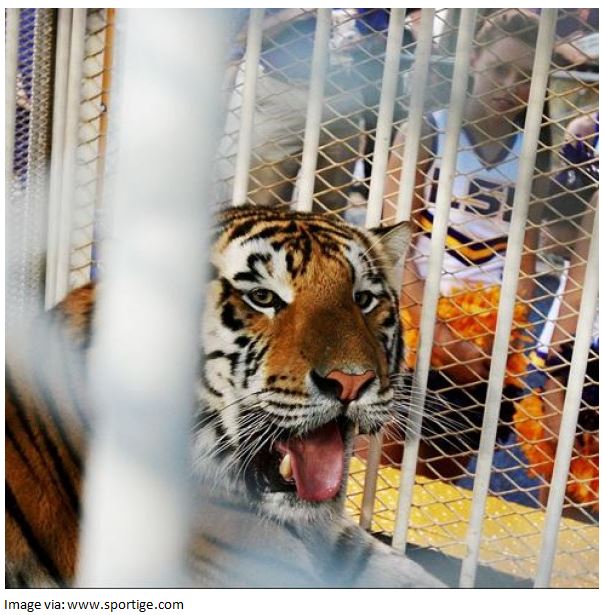 5. Mike the Tiger - Louisiana State University
I know, the tiger mascot is the most overused in college football. Heck, there are 3 teams in the SEC alone that have the tiger as their mascot. But if I had to pick one team out of all of them to keep the tiger's name, it would have to be LSU. See, Mike the tiger is an actual Bengal tiger. The student's costumes are nice, but you just can't beat the real deal.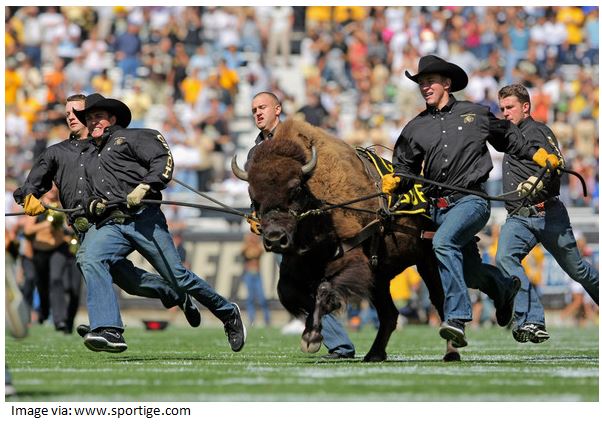 4. Ralphie the Buffalo - Colorado State University
There are few things more intimidating for an opposing team than the sight of a 1,300 pound charging buffalo coming right at you. Unlike LSU's Mike the Tiger, Ralphie doesn't sit docile on the sidelines. With several tough looking cowboys at his side, Ralphie is run around the stadium at the start of each half. And we are definitely giving bonus points for their lovable and cool costumed version, Chip.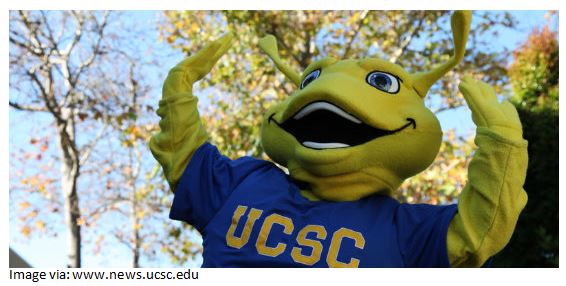 3. Sammy the Banana Slug - University of California - Santa Cruz
Known for his laid back personality and chilled-out dance moves, Sammy the Banana Slug is a mascot that should never have caught on, yet has somehow managed to make quite a name for himself. In 1992, Sammy was named top college mascot by Sports Illustrated and in 2004, Reader's Digest reaffirmed their choice.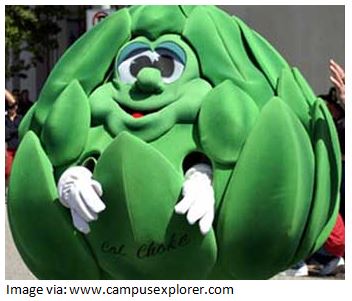 2. Artie the Fighting Artichoke - Scottsdale Community College
Unlike some of the other mascots on our list, Artie's got a little history behind him. In the 1970s, the Scottsdale Community College student body was outraged to learn the administration had been using scholarship money intended for Native American students to become a junior college sports powerhouse by bribing athletes to come to the school. In a school-wide protest, the students changed the name of the mascot to something ridiculous that would shame the school for years to come. As a result, we now have Artie, the Fighting Artichoke, still making appearances today.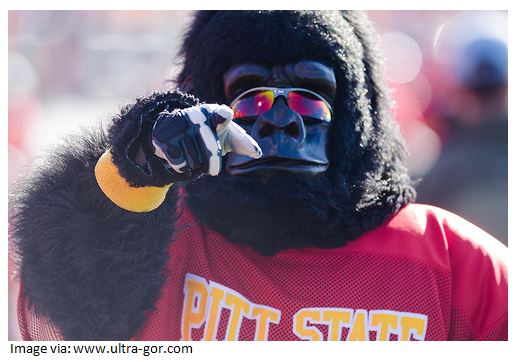 1. Gus the Gorilla - Pittsburgh State University
You know, more schools should have primates for mascots. Gus is, without a doubt, one of the most unique mascots on any university campus today. In the early 1920's, a group of young men fed up with the lack of school spirit organized themselves as the Gorillas in order to ignite college spirit and enthusiasm. A few years later, Gus was unanimously adopted as the mascot for the men's and women's athletic programs. Pitt State is product to be the only college in the nation with the Gorilla as its official mascot.
So there's our top 10. What mascots would you have ranked that we forgot about?
By Allison Hook